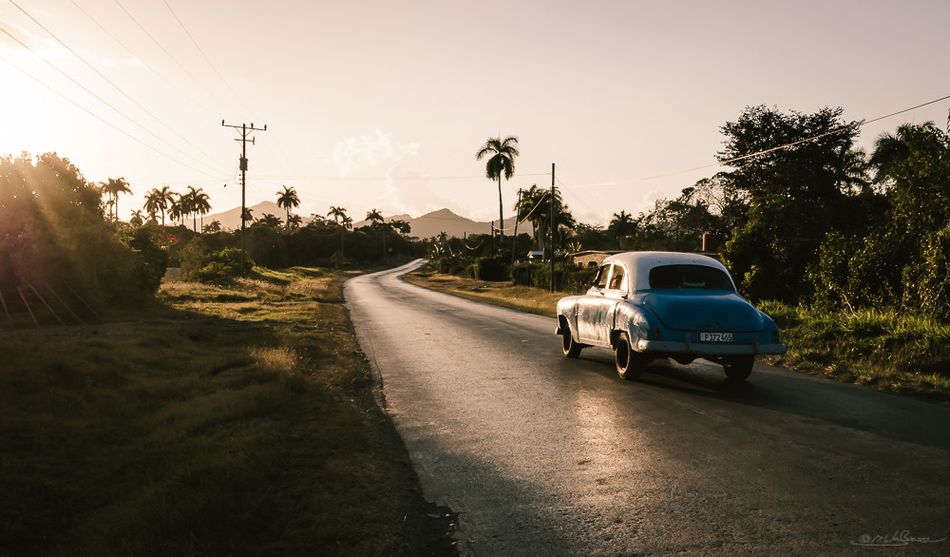 Read on for a short write-up of our Trip to Cuba...
---
In the beginning of March we've been to Cuba for two weeks and the question you probably have is: did we like it? Well that's not an easy question to answer. The plan was to go to Cuba before the hordes of tourists arrive in the wake of the ever more evolving  reforms from Raul Castro. But IMHO we were already (too?) late for that. Sometimes you already felt like that there where more tourists around than locals so I will be honest with you. Cuba is a nice country. There are so many interesting places to see and things to do, beaches with crystal clear water, rum, cigars and music. And of course these Oldtimers cruising the streets that everybody visiting Cuba wants to see, and many friendly Cubans.
But sad but true with all the tourists flooding the country, the typical tourist scams are just around the corner and some people will see you only as a walking dollar sign form which they will try to squeez out as much money as possible. Either by trying to sell you things way overpriced (most things won't be labeled with a price tag so they can tell you every price they want anyway) or by plain cheating. Example? Me buying some bottled water for 2 CUC. Paying with a 3 CUC bill because I didn't have the exact amount, and getting back 1 CUP is just one. As you see Cuba has two currencies CUC and CUP, with 1 CUC translating to one USD and 1 CUP being 1/25 of a CUC. Where CUC is the currency for tourists and CUP the one for the Cubans.
I realized the scam and then got back the right amount. And of course it was just a mistake..... But I could go on with this kind of things for a long time. I'll spare you that. But apart from these sometimes really annoying realities, you can have a great time in Cuba,  you just should be aware that being in Cuba, everything is just this little bit more of a hassle than in any other country I've been so far. So If you wish for easy and efficient, look elsewhere. 

But don't get me wrong we had two nice weeks, we saw a lot and I downright love some of the pictures I was able to take. I just think too many Cubans don't do their country a favor by giving you the impression to only being after your money. At least that's how I felt a tad too often. And I know that most Cubans don't have much and I'm OK with paying a little premium as a tourist, but it's the same in for example Thailand, Malaysia or even Turkey and I never felt like that, while traveling these countries.

But enough of this, instead I will show you some pictures and give you a little more information on the individual stops of our journey.
Just one more thing: You will most likely notice that there are quite few pictures of Viñales. That's due to the photographer's worst nightmare I had to go through, when I realized that I'm missing three whole days of shooting (the last day in Havana and the two following days in Vinales) from one of my cameras I had with me (The Fuji XE-1 that I had around my neck all the time).
I don't know what went wrong. Maybe some error from me while copying the files to my laptop? The only thing I know for sure from the numbering of the file names is, that I'm missing the outcome of 387 shutter clicks! Of course not everyone of these 387 picture will have been particularly well. But I know of at least of 7-8 pictures, that I really really liked, that are no more to be found :-( Frustrating as hell, I can tell you that.
Itinerary:
Since we only had two weeks we limited our journey to the western part of the island. We arrived in Varadero were we stayed for 3 nights before continuing as follows Varadero -> Havanna -> Viñales -> Cayo Levisa -> Soroa -> Cienfuegos -> Varadero with a daytrip to Trinidad while staying in Cienfuegos.
Except for Cayo Levisa where the only possibility to spend the night is to check in to the Hotel, we stayed in Casa Particulars, which are private accommodations similar to what Air BnB is everywhere else and which you can find all over Cuba. We booked all of them in advance via BBINNVinales except for our Casa in Varadero that we booked via CubaHoster. But we also met people who just flew to Cuba and found themselves a Casa to stay wherever they where going. There are plenty and they are easy to find if you look for this blue sign.
I will add some more information on the individual stops of our journey and captions for all pictures in the days ahead. For now there are only the pictures.
Varadero
La Habana
Viñales
Cayo Levisa
Soroa
Cienfuegos (incl. Day trips to Trinidad and El Nicho)
And if you like what you saw here, feel free to share! Or leave a comment below!